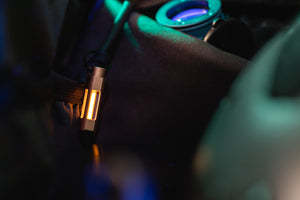 Based in Metro Detroit, Glow Rhino is a fresh everyday carry (EDC) brand specializing in tritium solutions. Our founders have nearly 30 years' experience adapting tritium to a variety of tactical solutions in the firearms and defense industries.
Before Glow Rhino was even an ember, we cared about what we carried. The gear we carry empowers us to take on whatever life throws our way. But EDC shouldn't quit just because the lights do. We took some cues from the defense industry and began experimenting with using tritium in the tools we carry everyday. 

And Glow Rhino was born. 
The job doesn't quit at sunset, and neither does our gear. All of our products contain tritium, a self-powered light source that doesn't require batteries or an outside charge (and yes, it's completely safe). Tritium has long been used in watches, gun sights, compasses, and other military applications requiring visibility in low light.
Our mission is bringing this incredible material to the civilian EDC world, helping you solve modern challenges with unique tools you'll never lose.
Detroit | Michigan
A Proud American Company